California woman's lawyer says it was accident when she plowed into pedestrians, killing 4
Published December 20, 2014
Associated Press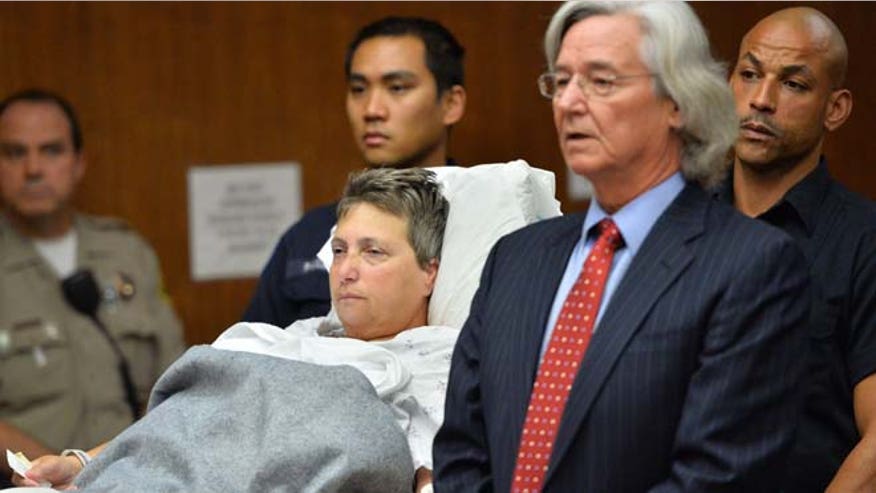 Dec. 19: Margo Bronstein appears in Torrance Superior Court flanked by her attorney Jeffrey Gray. Bronstein is charged with 4 counts of gross vehicular manslaughter. Five children and eight adults, including Bronstein and the driver of another car, suffered injuries such as broken bones, abrasions and head trauma in the crash Wednesday after a student Christmas concert at St. James Catholic Church in Redondo Beach, police said. (AP Photo/The Daily Breeze, Brad Graverson)
TORRANCE, Calif. –  The attorney for a 56-year-old woman accused in the deaths of four people, including a 6-year-old boy, said it was an accident when she ran her car into nearly a dozen pedestrians outside a California church, describing her as someone who "does not live her life recklessly."
"Two days ago, three days ago, people that knew her
couldn't believe that she'd be in this situation
," said Jeffrey Gray, attorney for Margo Bronstein.
Gray pleaded not guilty on Bronstein's behalf Friday to four counts of gross vehicular manslaughter and one count of driving under the influence of a drug causing injury.
Bronstein was wheeled into court on a gurney. She was propped up with pillows and spoke only to her lawyer.
A judge ordered her held on $500,000 bail, the amount requested by prosecutors.
Gray told the judge the collision was an accident, and not intentional.
Outside court, Gray urged people not to jump to conclusions, noting the result of toxicology tests were not yet available and the
cause of the incident was still unclear.
He said possibilities such as a malfunction of her specially equipped car, which has hand-controlled brakes, or an adverse reaction to her prescribed medication had not been ruled out.
He said she was brought to court on the gurney because she had been injured in the accident and because of disabilities she has had since birth.
Five children and eight adults, including the suspect and the driver of another car, suffered injuries such as broken bones, abrasions and head trauma in the crash Wednesday after a student Christmas concert at St. James Catholic Church in Redondo Beach, police said.
Samuel Gaza, 6, died late Thursday at a hospital.
Three adults died earlier, including the boy's mother, Martha Gaza, 36; along with Mary Anne Wilson, 81; and Saeko Matsumura, 87, all of Torrance.
Officials said they
do not have information
linking Bronstein to any prior arrests or DUI-related incidents.
She had a perfect driving record

but was restricted to driving a vehicle with hand brakes, an additional right-side mirror and adequate signaling device, according to Department of Motor Vehicle records.
5. Bronstein Had Prescription Medication in Her System
The suspect's car. (NBC Los Angeles)
Bronstein, 56, was taken to hospital for injuries she suffered in the crash, reports KTLA. She is charged with manslaughter and driving under the influence. Her bail has been set at $300,000. Lt. Joe Hoffman told the media that "At the very minimum, prescription medication is involved."
Margo Bronstein: Photos of Redondo Beach Crash Suspect
Margo Bronstein is the suspect in the DUI crash that killed three people at a Christmas carol concert in Redondo Beach, California.