Jewish bit not that much of a secret though I don't recall reading that Winnie was a poofter too.  One is hardly surprised but this is still interesting considering how JMSM & neocons/Republicans adore Churchill.  I do remember reading a bio long ago that mentioned that in WWI he had to have silk long underwear sent in since regular wool too scratchy for the tender skin.
Page w/a lot of Churchill links:
http://www.whale.to/b/churchill_h.html
Churchill's sandhurst file, the original and proper one lists him as,
'a confirmed sodomite and a menace to the younger boys'
( Courtesy of guy burgess diaries ) this waywardness allowed Churchill to be used by the bankers
http://www.whale.to/c/winston_churchill1.html
As a member of the 4th (Queen's Own) Hussars, in 1896 Churchill became embroiled in a lawsuit wherein he was
publicly accused of having engaged in the commission of "acts of gross immorality of the Oscar Wilde (homosexual) type."
This case was duly settled out of court for a payment of money and the charges were withdrawn. Also a determinant factor was the interference by the Prince of Wales with whom his mother was having an affair.
In 1905, Churchill hired a young man, Edward Marsh (later Sir Edward) as his private secretary. His mother, always concerned about her son's political career, was concerned because Marsh was a very well known homosexual who later became one of Winston's most intimate lifelong friends. Personal correspondence of March, now in private hands, attests to the nature and duration of their friendship.
Queer Old Winston
In the Ted Morgan biography of W. Somerset Maugham, he discusses the friendship of Maugham and Winston Churchill. Maugham was bisexual with leanings toward exclusive homosexuality. The following conversation between the two was recorded ( Morgan pg.152 ):
" Maugham got to be on close enough terms with Churchill to once ask: ' Winston, your mother often indicated that you had affairs in your youth with men.'
' Not true!' Churchill replied. ' But I once went to bed with a man to see what it was like.'
' Who was it ?'
' Ivor Novello.'
' And what was it like ?'
' Musical. ' "
Ivor Novello was the stage name of David Davies (Jew), the most popular figure in the British musical theatre in the 1920's.
He was a " beautiful " young man with delicately chiseled features and long-lashed brown eyes. In 1911, when he was 18, Novello went to Lady Randolph Churchill's home for dinner. Winston was 37. It was highly probable that this was the occasion for Winston's ' musical ' experience - and might have been the reason why Lady Randolph believed Winston had more than one ' gay ' affair.
One finds it amusing that conservative fundies express an admiration for Churchill and a horror of homosexuality - if only they knew about queer old Winston.
Oh well, as they say in Great Britain " GAWD save the Queen ! " ( LOL!! ).
Had never heard of Ivor Novello but supposedly back in 20's/30's he was the Andrew Lloyd Weber of his time.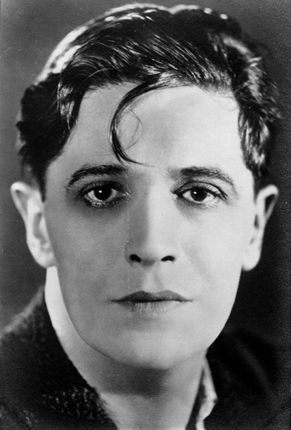 No way could this guy be gay!