Max Scherzer, new Andy Koufax? Washington Nationals owner is a crooked Jew who got $$millions in subsidies, esp getting permission to kick out 1,000's of local poor blacks.  Articles about Scherzer suggest financial manipulation the biggest reason for Scherzer mega-contract.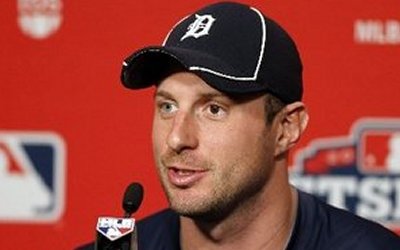 MLB execs vote Nationals' Max Scherzer the worst free agent signing in ESPN poll
By Scott Allen February 17
(Photo by Jonathan Newton / The Washington Post)
If "Most Creative Contract" was a category in ESPN senior writer Jayson Stark's annual poll of baseball executives about teams' offseason moves, Max Scherzer and the Nationals probably would've won that, too.
As it is, Scherzer and his seven-year, $210 million deal – structured to take advantage of D.C. tax laws that benefit both the pitcher and his employer — were voted the "Worst Free Agent Signing" and "Most Outrageous Contract" in Stark's survey of 35 MLB executives.
Fourteen free agents received at least three votes for the worst signing distinction, with Scherzer leading the way with 15. The Dodgers' Brett Anderson (10), Red Sox's Hanley Ramirez (9), Mets' Michael Cuddyer (

and Braves' Nick Markakis (6) round out the top five."It's ridiculous that they'll be paying him forever," one voter told Stark of Scherzer. "But he's a great pitcher."
With 22 votes, Scherzer edged out the Marlins' Giancarlo Stanton (19) and his record 13-year, $325 million deal for "Most Outrageous Contract." The Dodgers' signing of 31-year-old pitcher Brandon McCarthy to a four-year, $48 million deal was a distant third.
One of the executives polled said that Scherzer's contract is "a Bobby Bonilla joke waiting to happen." (The New York Mets are paying the former outfielder more than $1 million every year through 2035 under the terms of a deal they agreed to when they bought out the final year of Bonilla's contract before the 2000 season.)
Via Stark:
   With all due respect to Bonilla, who will be raking in nearly $1.2 million a year from the Mets until he's 72 years old, Scherzer still has him beat. He'll get $15 million a year – seriously, $15 million — through the year 2028. "And no matter how you look at how that devalues the present-day value of the deal," the same exec said, "that's just amazing. Even if he's great for four years and then declines, that's 10 more years you're still paying him $15 million. That's incredible." It's hard to disagree.
This isn't the first time that Stark's panel has looked unfavorably upon a big-money Nationals acquisition. Before the 2011 season, Jayson Werth and his seven-year, $126 million deal were voted the "Worst Free Agent Signing" and "Most Outrageous Contract," respectively. No. 2 on that list? Old friend and then-Yankees setup man Rafael Soriano.
Related: Scherzer is worth his $210 million contract
Thanks to @chasehugesCSN.
Scott Allen writes about all things D.C. sports. Follow him on Twitter @ScottSAllen or e-mail him if you've got a tip to share.