CSI Refugee Center Expects Influx of Syrians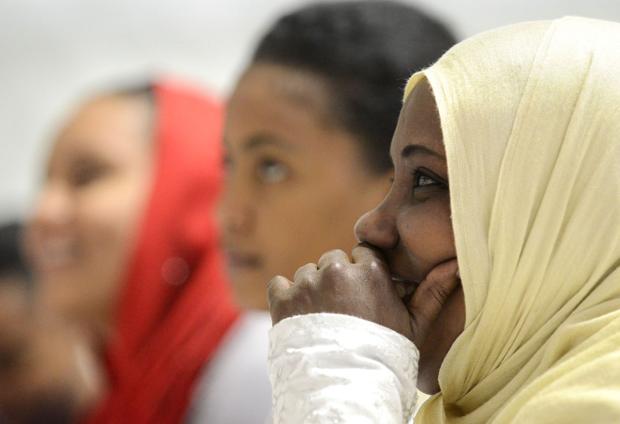 [url=http://times-news.mycapture.com/mycapture/remoteimage.asp?backtext=Return to photo&backurl=&thumbpath=http://bloximages.chicago2.vip.townnews.com/magicvalley.com/content/tncms/assets/v3/editorial/f/6b/f6b4f7d9-519d-51b8-a138-b3a19fed1d16/553807df2daed.image.jpg?resize=699%2C478&previewpath=http://bloximages.chicago2.vip.townnews.com/magicvalley.com/content/tncms/assets/v3/editorial/f/6b/f6b4f7d9-519d-51b8-a138-b3a19fed1d16/553807df2daed.image.jpg?resize=699%2C478&pricingsheetid=2773&notes=553807df59dae.hires.jpg]Buy Now[/url]
DREW NASH, TIMES-NEWS
Refugee Farida Bashin smiles during a learning session Wednesday, April 22, 2015, at the CSI Refugee Center in Twin Falls.
April 29, 2015 2:00 am  •  [url=http://magicvalley.com/search/?l=50&sd=desc&s=start_time&f=html&byline=JULIE WOOTTON%0Ajwootton%40magicvalley.com]JULIE WOOTTON jwootton@magicvalley.com[/url]
(15) Comments
Related Galleries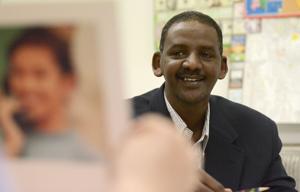 Gallery: CSI's Refugee Center Renews Vigor
TWIN FALLS • The College of Southern Idaho's Refugee Center is expecting an influx of Syrian refugees starting in October.
Projections show the center will likely receive 300 refugees from around the world during the upcoming federal fiscal year. That's the same number as this year.
Refugee Center director Zeze Rwasama anticipates the biggest populations of newcomers will be from Syria and the Democratic Republic of the Congo.
"That can change at any time depending on what's out there," he said. The U.S. Department of State approves the number of refugees coming to Twin Falls.
There aren't any Syrians in Twin Falls yet, Rwasama said, but the Refugee Center is prepared for the influx. "We're not anticipating any challenges."
Worldwide, aid groups are calling on the United States to do more to help Syrians displaced by a five-year civil war.
The war has claimed the lives of more than 220,000 people and driven some 9 million of the prewar population of 23 million from their homes. Of those, more than 3.8 million have fled to neighboring countries.
To date, the U.S. has resettled just 648 Syrians.
U.S. Assistant Secretary of State Anne Richard said during a recent visit to Lebanon that between 1,000 and 2,000 Syrian refugees will be brought to the U.S. by the end of September and several thousand more in 2016.
CSI's Refugee Center has already resettled more than 1,000 refugees from Iraq, the neighboring country to Syria, and many speak Arabic.
"Culture wise, we're familiar with what we're going to get," Rwasama said, although newcomers may have different education or work backgrounds.
Children will enroll in the Twin Falls School District's Newcomer Center, with locations at Lincoln Elementary School, Robert Stuart Middle School and Canyon Ridge High School.
The district hasn't received notification yet about which populations of refugees will arrive next year, spokeswoman Eva Craner said.
Typically, Twin Falls schools have more than 100 refugee students and about 20 languages are spoken.
When refugee children arrive, they get intensive instruction at the Newcomer Center. Then, they're transitioned into regular classrooms.
Syrian children will go through the same process as other incoming refugees, Craner said.
Earlier this month, an
international aid group urged the U.S. to resettle 65,000 Syrians before the end of 2016
, highlighting Washington's slow response to the massive refugee crisis.
David Miliband, President and CEO of the International Rescue Committee, told The Associated Press in Beirut that the whole international community shares responsibility for the consequences of the Syrian civil war.
"It's good that the pace of U.S. resettlement is rising from the very low figures of the first four years, but it certainly needs to improve," Miliband said.
The Refugee Center had helped 162 newcomers settle in Twin Falls by the end of March. February was a particularly busy month, with 45 incoming refugees.
Since 1984, the center has settled almost
5,000 people in the Magic Valley. Most are from Iraq and Iran.
The Associated Press contributed to this story
.