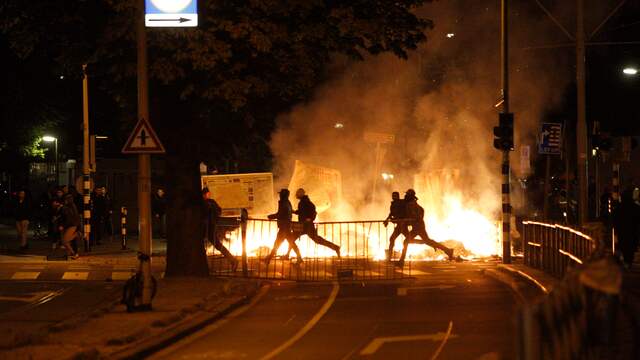 Hot weather, A black guy dying after provoking the police and resisting his takedown long enough to turn the chokehold to subdue him in to a fatal one. Communist "antifascist" agitators turning it into a racial thing and fueling the frenzy and a neighbourhood where 80% of the population consists of non white immigrants. ( mainly berbers, north african muslim trash of which the name barbarians originate )
And you get a recipe for three night of riots ( so far )
Rioting mainly consist of trashing the place. breaking windows , setting of fireworks , throwing stones at police, trying to beat up undercovers and in some cases dousing cops with gasoline.
a few Riot police officers got injured as the rioters flanked their line and attacked them with stones from both sides.
The funny part is that the antifascists are demonstrating against supposed police racism standing right next to berbers scanting " fucking jews" ( though " jews" is a term used to refer to police )
The berbers are also semitic people descended from jews but to dumb to know it. IN their african country of origin ( Morroco, Libya, Algiers ) they are also hated by the main population and considered animals due to their uncivilised behavior.
But Jewrope's leaders somehow thought it a brilliant idea to import these people into Europe. And now they try to go al ISIS on their neighbourhoods.
the second funny thing is they trashed the local theatre/art centre that's supposed to be a symbol of multicultural expression.
Politically correct Media tried to suggest the riots were due to football supporters, and the Mayer is stumbling to stay politically correct while blaiming it all on the weather and job market
THird night in and Riot Police encircled about 100 dumbasses that ignored the police order to disperse. They were driven into a circle and taken away in busses
SO it's now waiting for some idiot starting to complain it is a razzia..