Photographer: Chris Goodney/Bloomberg
Come Aboard Almost $1 Billion Worth of Superyachts Now in Miami
Superyacht owners rejoice: You can finally dock your ship in Miami. A month after Island Gardens Deep Harbour opened in Biscayne Bay, the docks have filled with $800 million of yachts jockeying for space as the Magic City hosts a series of annual boat shows. Photographs by Chris Goodney/Bloomberg
The arrival of the superyachts coincides with the kickoff of the bigger and older Progressive Miami International Boat Show taking place through Feb. 15 at the city's marine stadium. That show, expected to draw some 100,000 visitors over four days, features 1,200 new boats from manufacturers that include Beneteau and Jeanneau. It's basically the Art Basel of the boating world, with several satellite events now in its orbit. Here we take a look at Superyacht Miami, which focuses on mega-yachts for the ultra-wealthy.
(Corrects name of boat show to Superyacht Miami, an invitation-only program of Yachts Miami Beach.)
[list=slideshow__photos]
[*]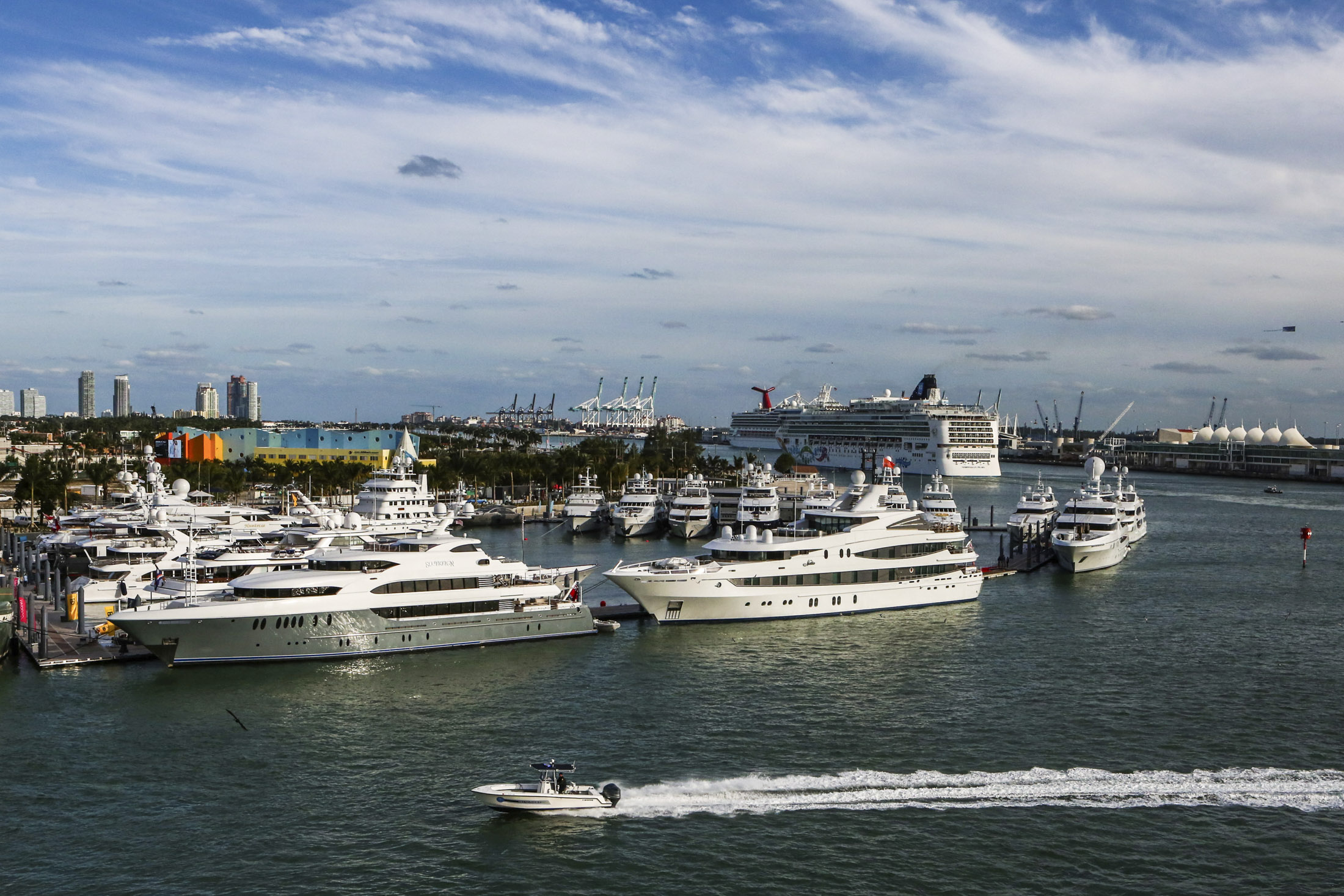 1
Deep Harbour
"It finally feels full," said Turkish businessman Mehmet Bayraktar, chairman and CEO of Flagstone Property Group, walking the docks on a cold (for Miami) February morning. It's been nearly 16 years since he first filed a proposal to build a marina with adjacent residential and retail facilities. A luxury hotel is also in the works. Island Gardens Deep Harbour is located on Watson Island between South Beach and Downtown Miami in Biscayne Bay. In the distance, you can see the Port of Miami Cruise Terminal. 
[*]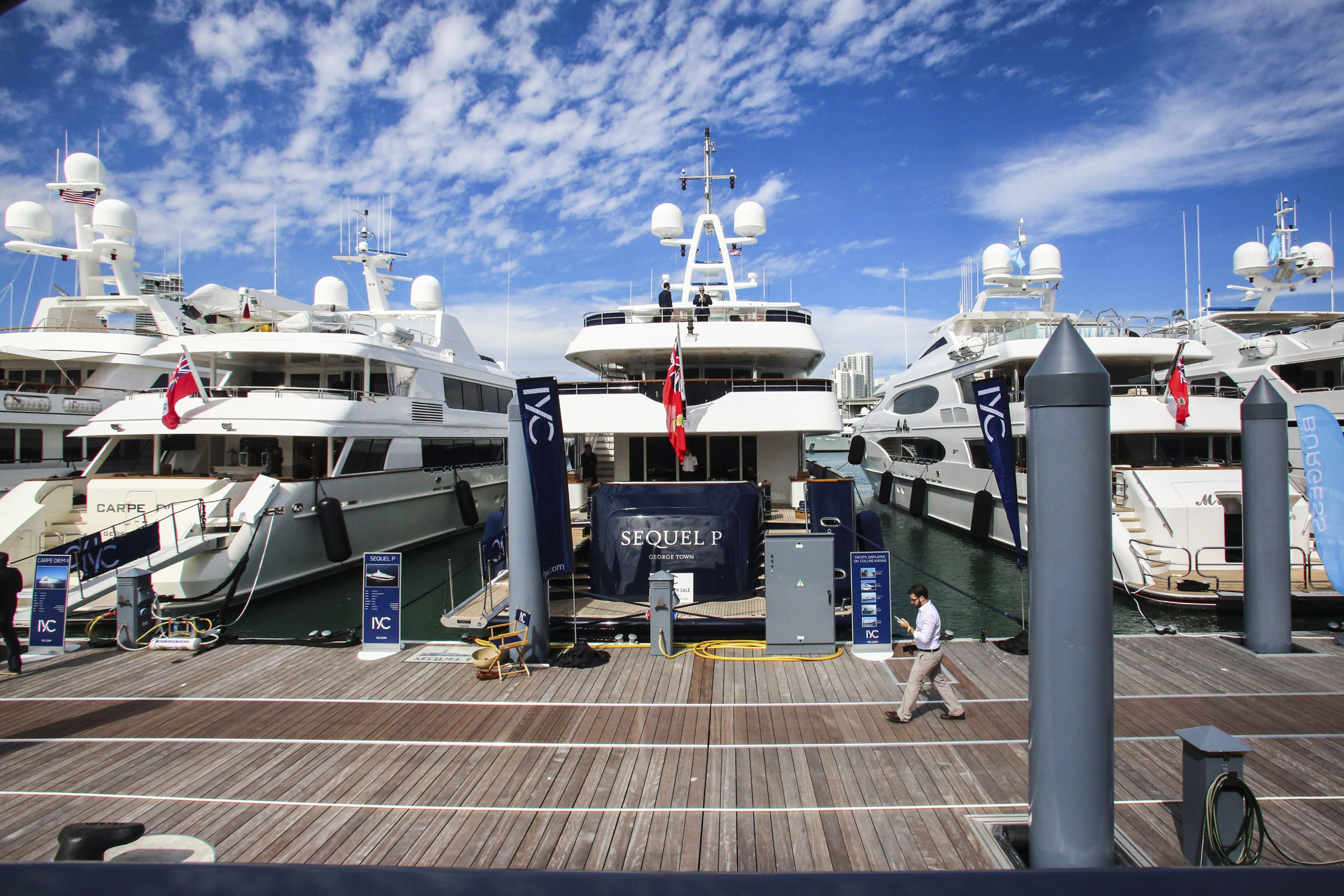 2
Space for Superyachts
A shortage of wide, deep berths has been a persistent problem for south Florida, limiting its attractiveness to large boat owners despite its proximity to the Caribbean. Bayraktar's marina changes that equation, said Charles DuGas-Standish, captain of the
Natita,
flagged under the Cayman Islands. (Scroll down to tour aboard his ship.) 
"Until you build it here, they won't come," he said. "This is a good start. Miami has been losing out to Monaco" because of the shortage of superyacht facilities, DuGas-Standish added.
[*]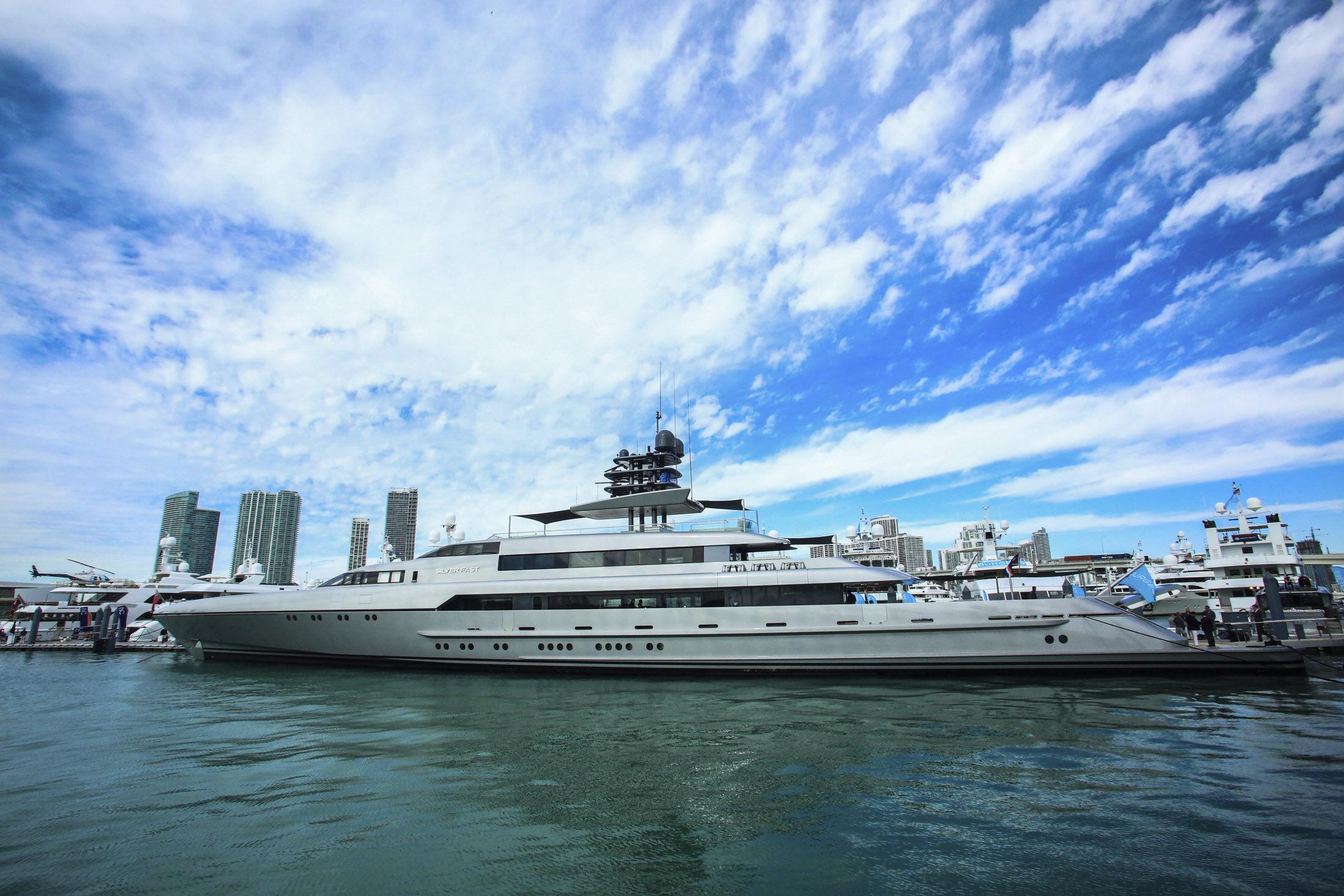 3
Silver Fast
Built in 2015, the
Silver Fast
is 77 meters (253 feet) long—the longest at Superyacht Miami—and is on sale for 79.5 million euros (about $90 million). The marina can accommodate yachts twice its size.
[*]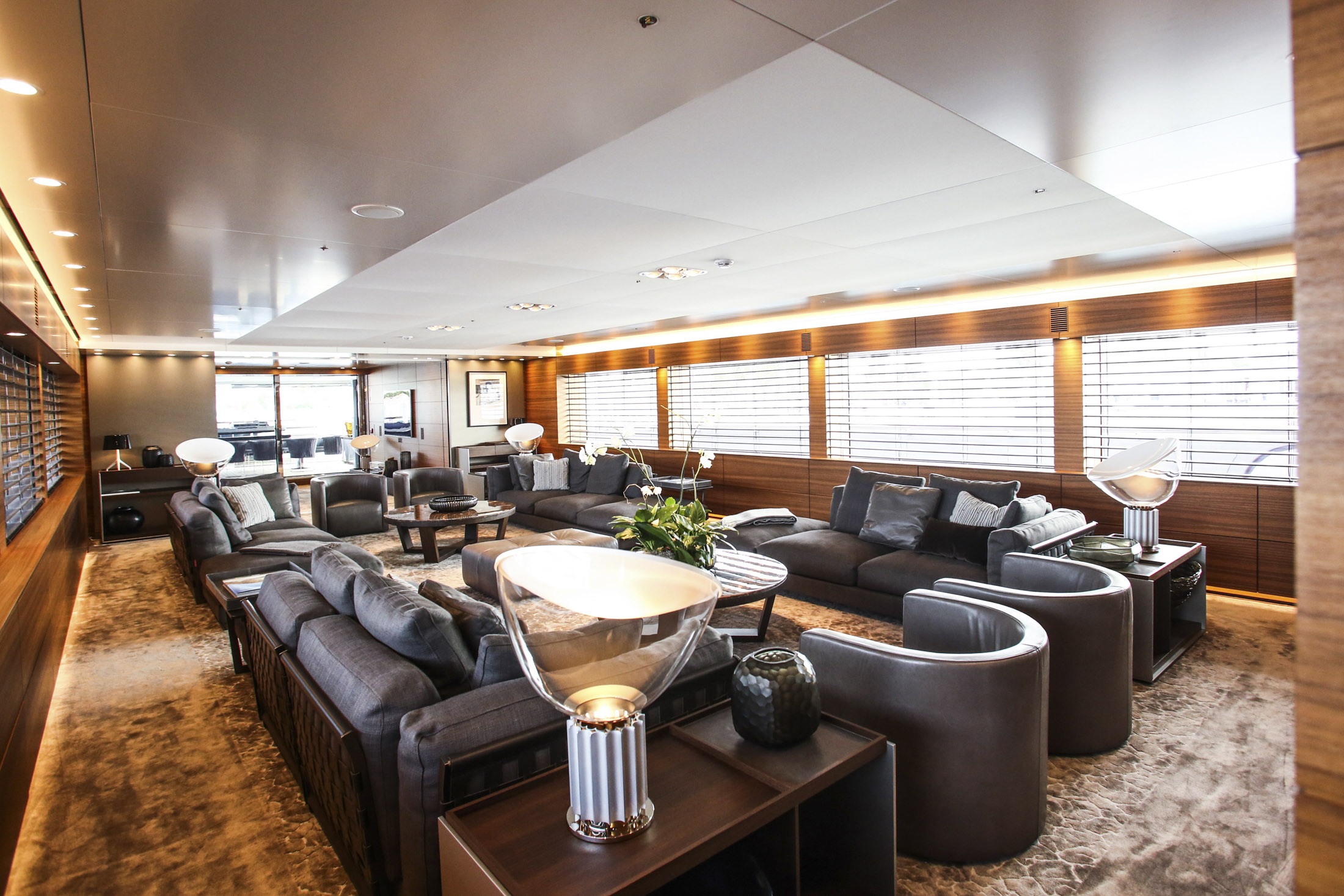 4
Main Deck Wintergarden
Don't have a spare $90 million to buy the
Silver Fast
 outright? You can charter it for a mere 650,000 euros ($731,000) per week. It can hold 18 guests with an equal number of crew.
[*]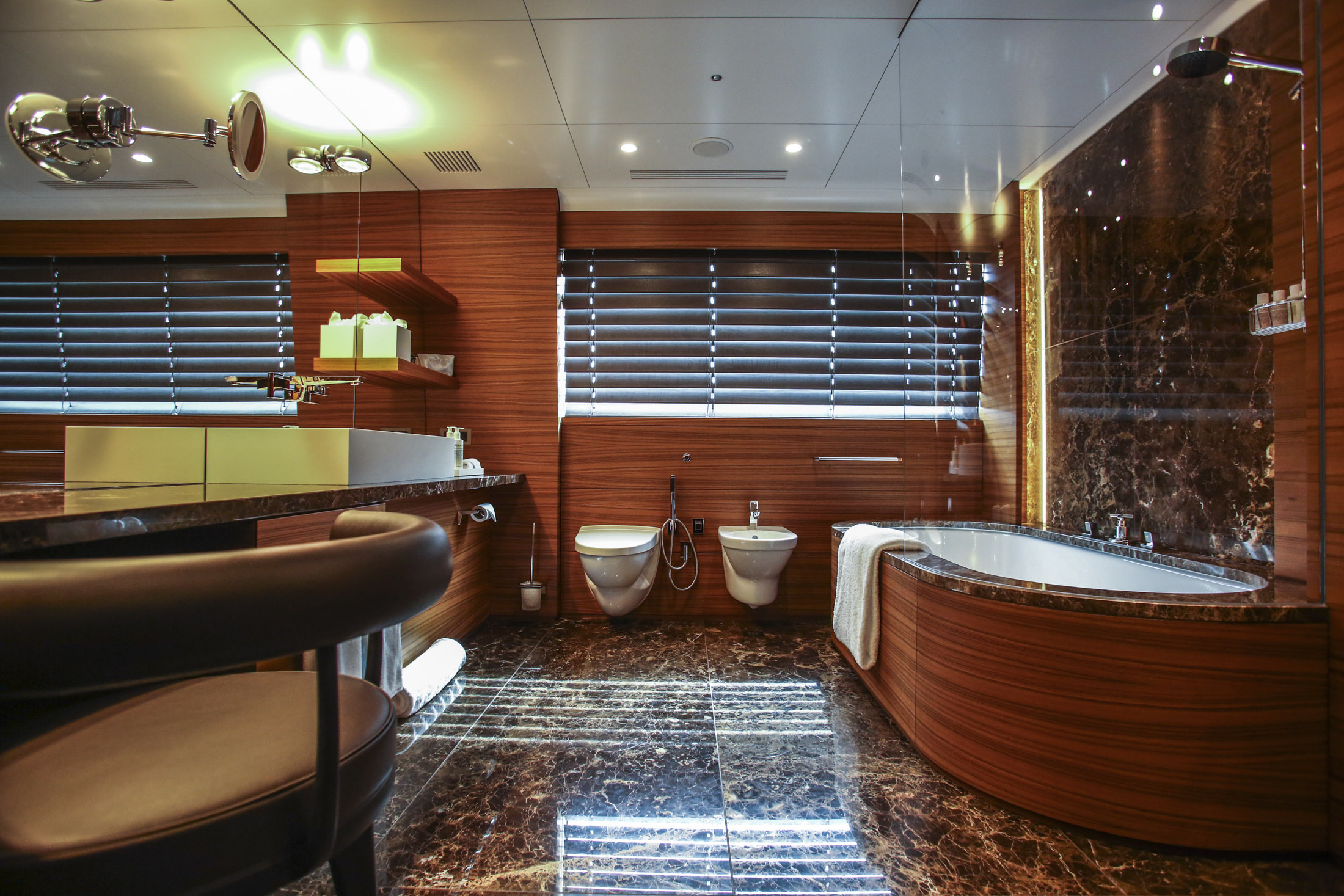 5
Owner's Bathroom
Marble and wood, a bidet and soaking tub are prominent in the bathroom on the owner's-only deck. The accommodations include a split-level suite and separate and full his-and-her bathrooms, as well as a private entertainment room and deck (just in case you don't want to mingle with your guests two floors below).
[*]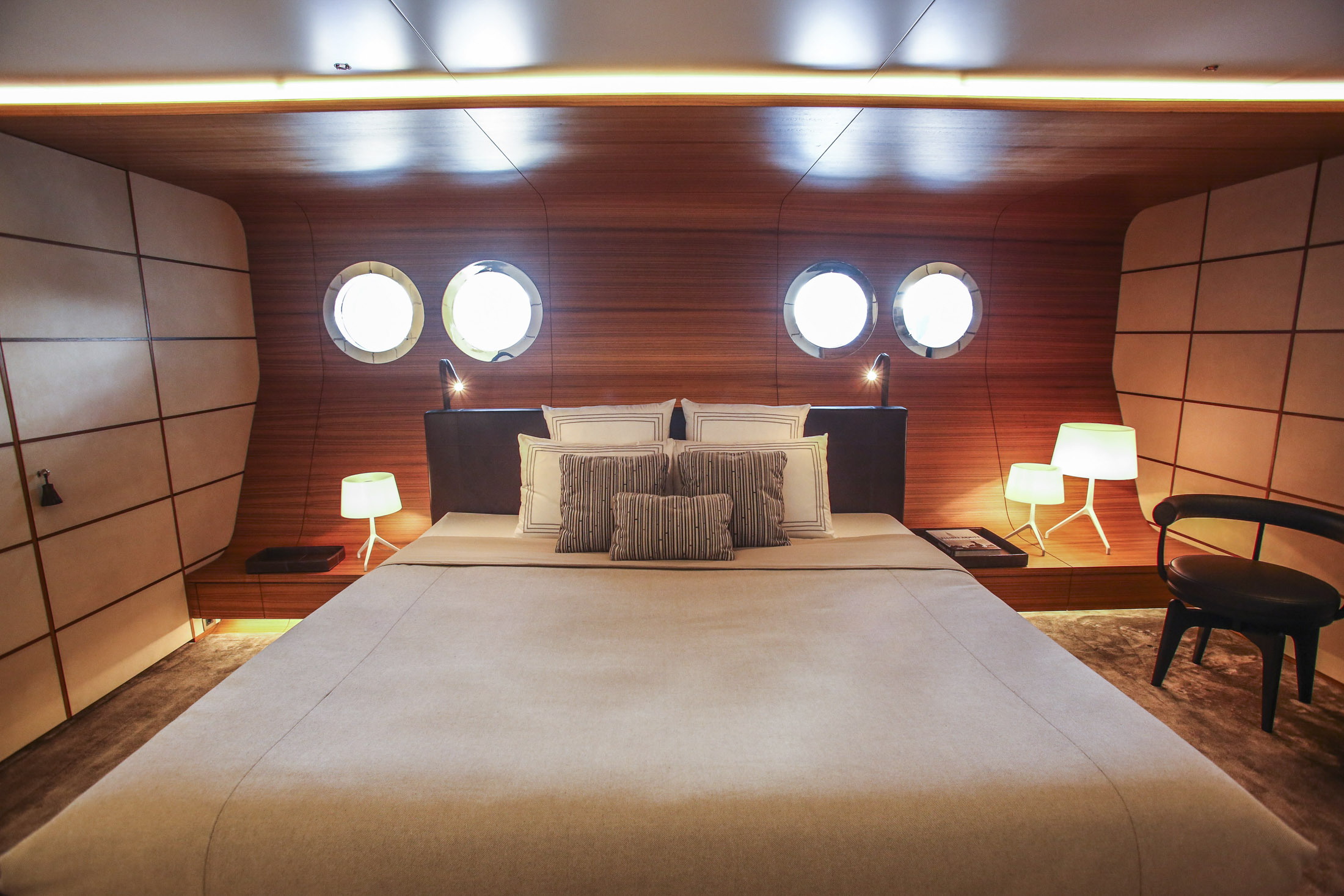 6
Guest Berth
One of the eight en-suite cabins on the yacht. Leather is a big design element. Seen here, muted gray suede panels that make the wall look like sliding Asian rice-paper doors, hung with leather tassels as pulls. Elsewhere on the ship is a slick leather staircase.
[*]
7
Wine Cellar
All the bottles you'd need at sea, tucked into a discreet, nondescript opening in the main hallway.
[*]
8
Main Salon
Interior design is by Vain Interiors, a German company with an almost Italianate aesthetic here. Plush details, such as anigre wood paneling. feature throughout.
[*]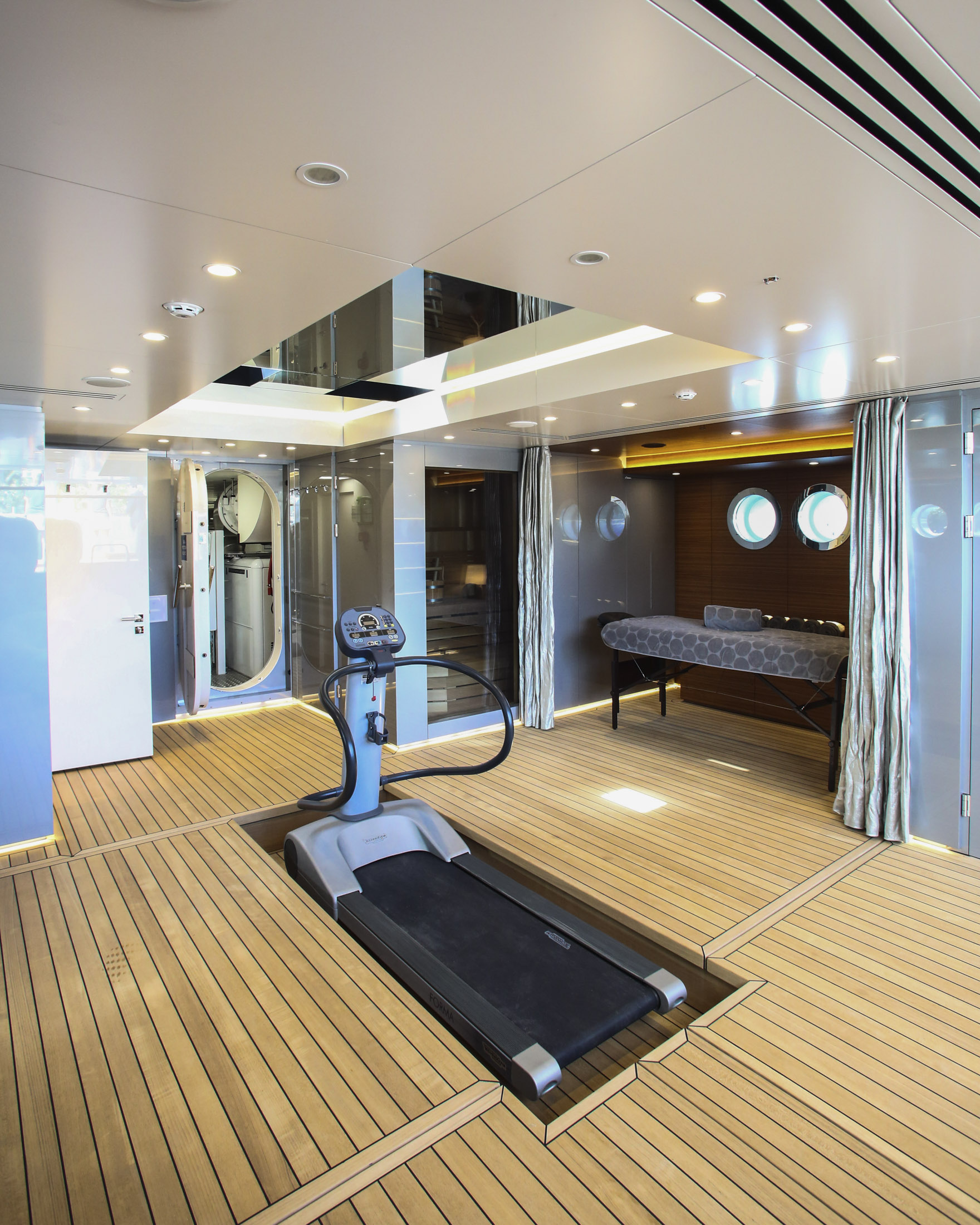 9
Spa
In the stern you'll find a customized Klafs Sauna, treadmill, and massage table, and even a hair salon. And, of course, plenty of teak flooring.
[*]
10
Escape Route
The dark silver color and sleek, almost-military profile actually help security, according to reps from the
Silver Fast
. (But if anyone were trying to get too close, it's also the fastest boat we saw.) The helipad here can accommodate an Augusta 109 or an EC135—or even a strapped-down Mercedes, if you really wanted it. Underneath, DeLorean-style gull-wing doors open to the stowage for two customized tenders.
[*]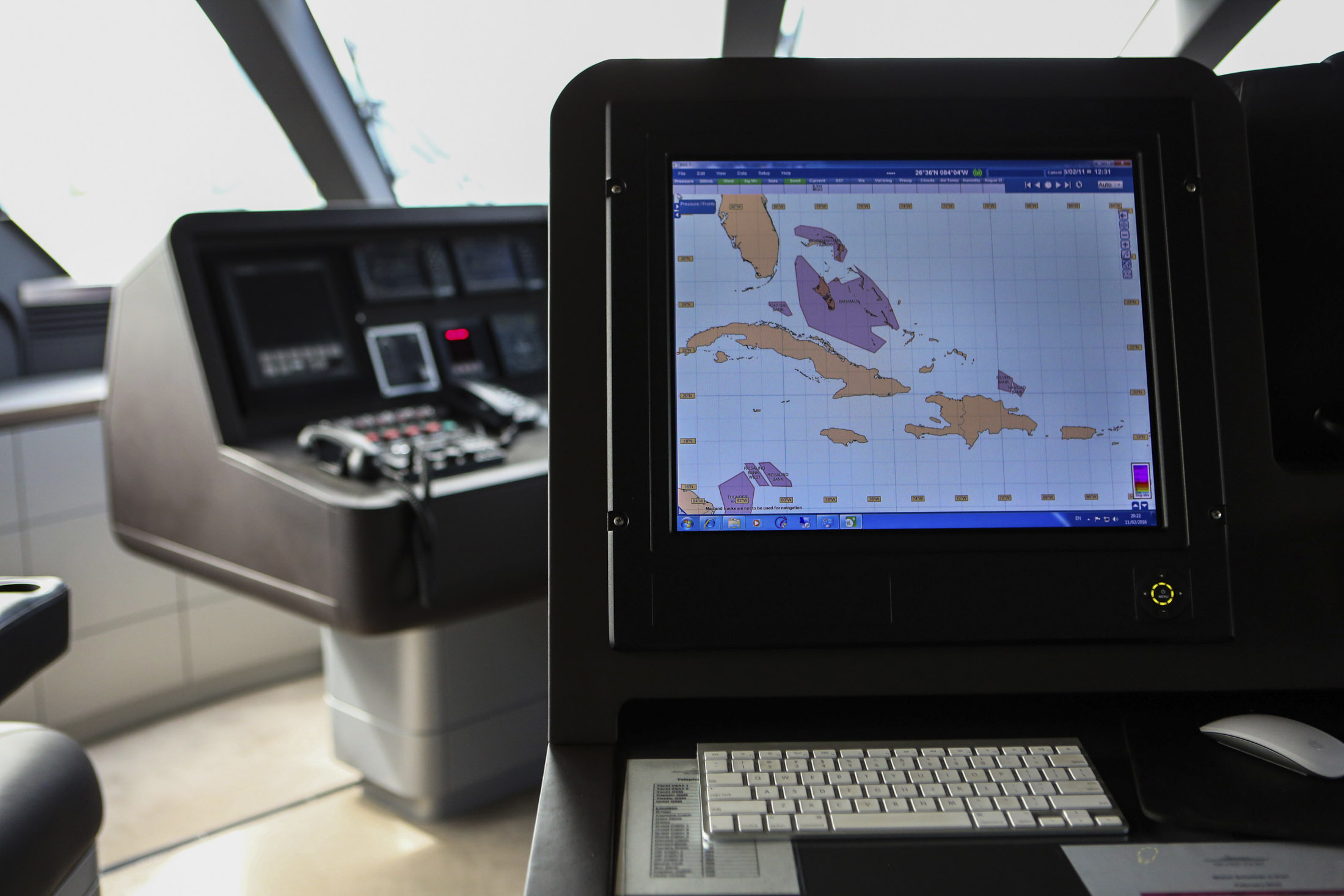 11
Unparalleled Speed
The sleekest of the superyachts docked at Deep Harbour, the
Silver Fast
is the longest and fastest aluminum yacht built, capable of getting you from Australia to Europe in 21 days on just one refueling. That's thanks to a pair of MTU diesel engines that just sip at the 112,000-liter fuel tank. The lighter material helps the ship maintain a cruising speed of 22 knots (top speed: 27 knots) and a draft of just 2.6 meters. That means you can easily tour around the Caribbean and get closer to that beach bar than
Silver Fast'
s weightier competition.
[*]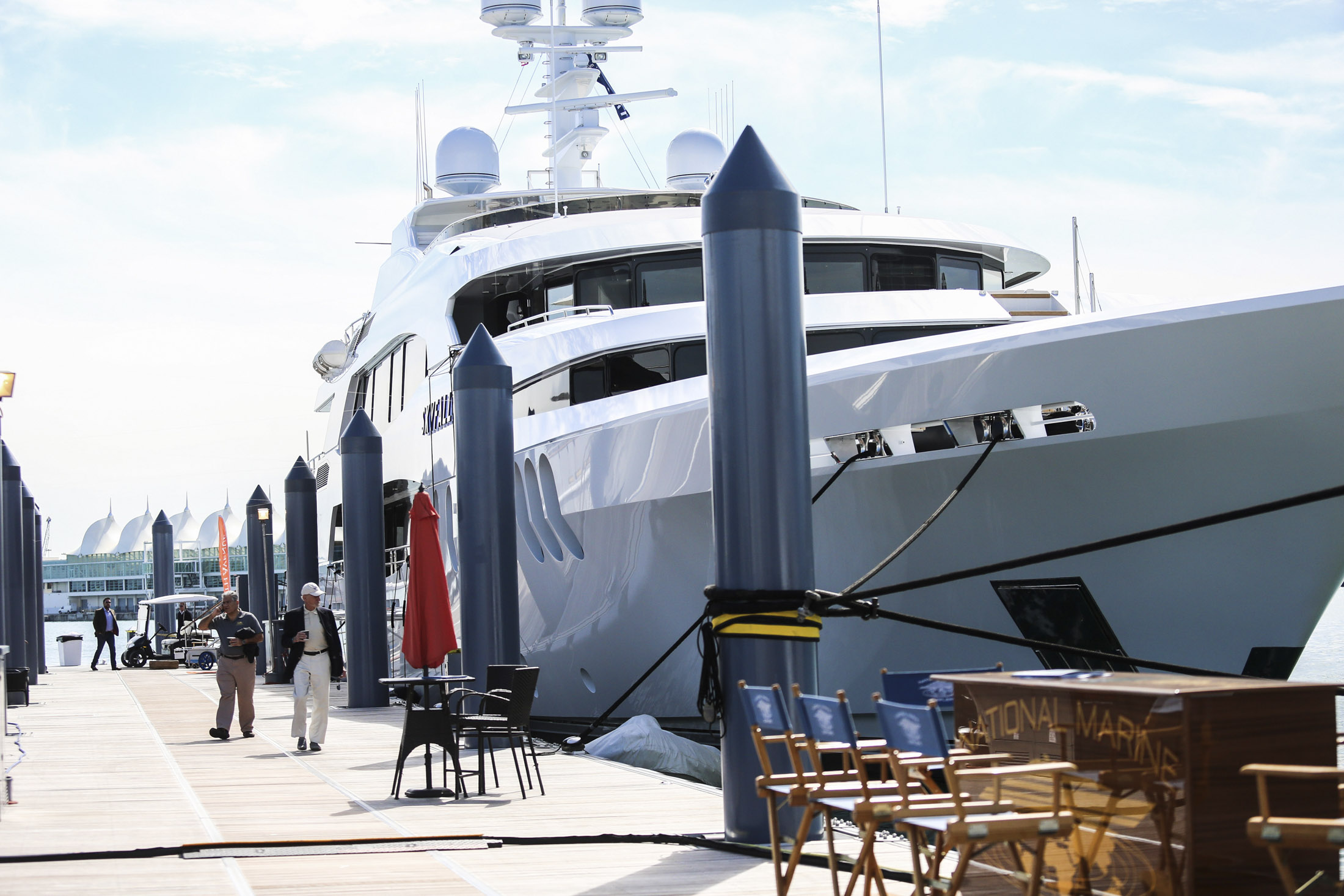 12
Skyfall
IYC's biggest offering at this year's show, this ship is 58 meters (193 feet) long and was built by Trinity Yachts in 2010. With six yachts ranging from a mere $9.9 million to
Skyfall'
s $36.5 million, there's a range of options for the experienced yachtsman or someone just getting into the market.
[*]
13
Shoes Off
Owner John Staluppi is known for naming his yachts after James Bond movies. He has also built
Diamonds Are Forever, For Your Eyes Only,
and, of course,
Octopussy. Skyfall
can be chartered for 250,000 euros ($282,000) a week in summer.
[*]
14
Main Salon
With interior design by Patrick Knowles,
Skyfall
was designed so that seated guests could get ocean views unobstructed by railings.
[*]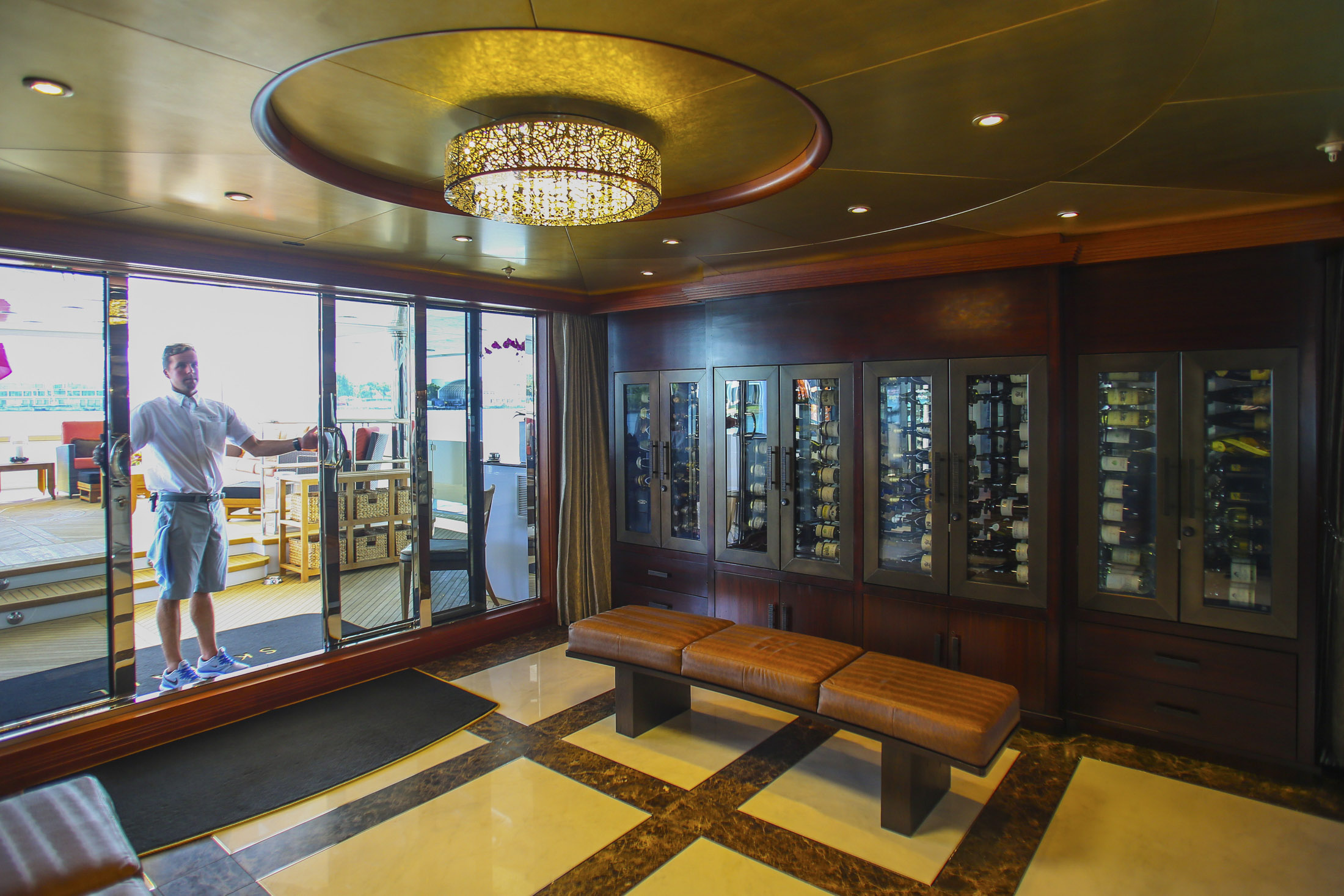 15
Foyer
Feeling thirsty? Touch the electronic sliding door button, step in from the heat, and uncork your favorite bottle of wine. More than 100 can fit here on this main deck. (Although, who are we kidding, you'll have staff to do that for you.)
[*]
16
Midship
Though the stairway is a centerpiece of
Skyfall,
 an elevator also connects the three main floors. Hallways are wide enough to accommodate wheelchairs.
[*]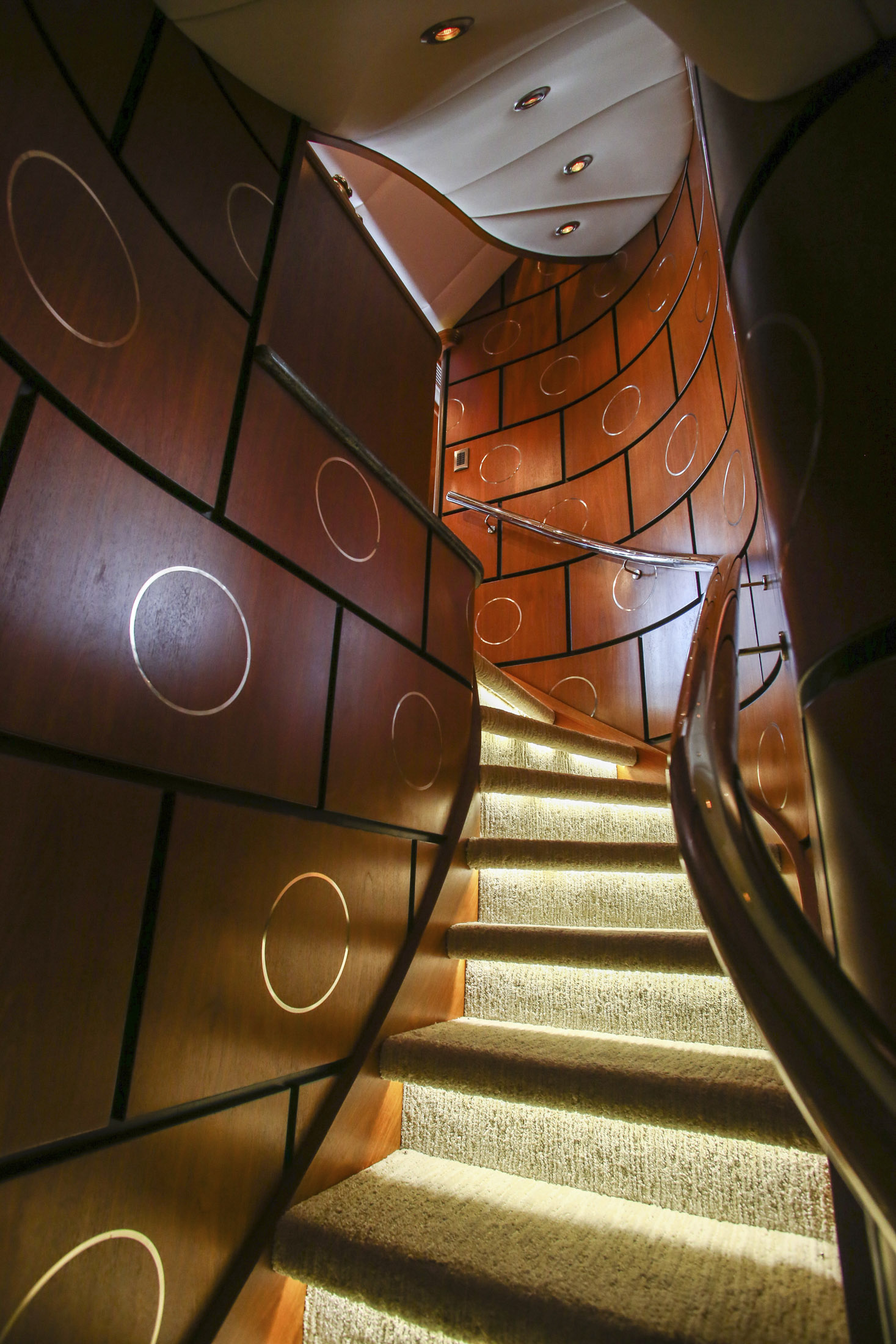 17
Design Climb
The guest rooms on
Skyfall
are "below decks," while a split-level master suite is on the main deck. Seven cabins hold 12 guests, with additional space for 13 crew.
[*]
18
VIP Cabin
Skyfall'
s guest stateroom (seen here) might feel like the owner's suite on a lesser yacht. But don't worry, it gets better: In addition to cedar-paneled closets and split-level design, your master suite includes 270-degree views, dual bathrooms, and heated floors, because no one should suffer cold feet at sea. 
[*]
19
Business in the Back
The Bell Jet Ranger (aka Bell 206) displayed during this week's boat show is optional, says broker Mark Elliott, who piloted it in himself. "If you don't have a helicopter, you can just pack more dinghies, jet skis, and toys back here," Elliott says. Or leave the space clear to shoot hoops with a regulation-height basket over the back deck.
[*]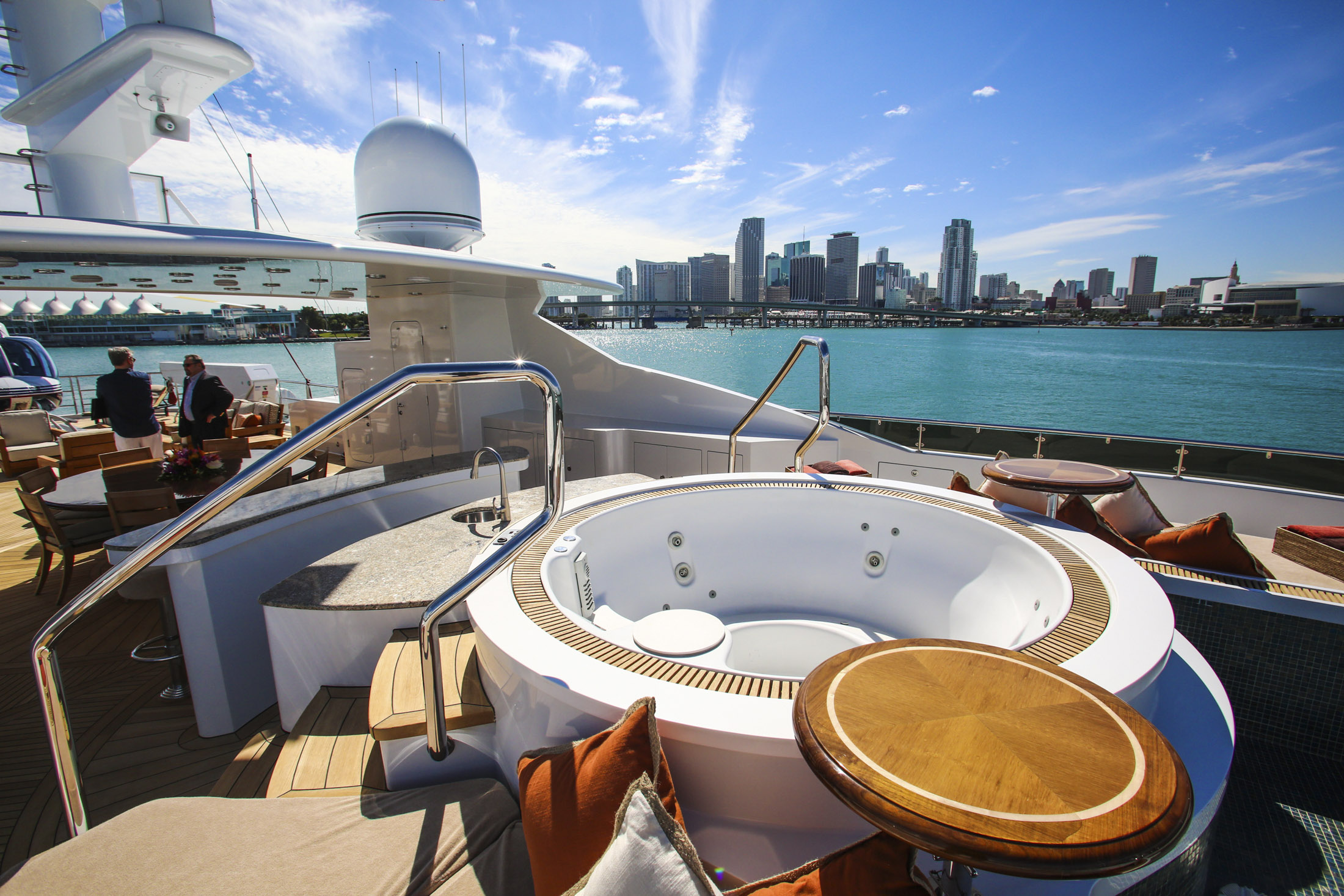 20
Party Up Front
If all you want to do is host parties at the dock, Elliott estimates you could invite 180 of your friends on board without anyone feeling squeezed. (Although you will have to take turns in the Jacuzzi.) In the distance is the Downtown Miami skyline.
[*]
21
Natita
Built in 2005 and selling for $57.5 million, the
Natita
(far right) is 66 meters long with 7,500 square feet of guest space.
[*]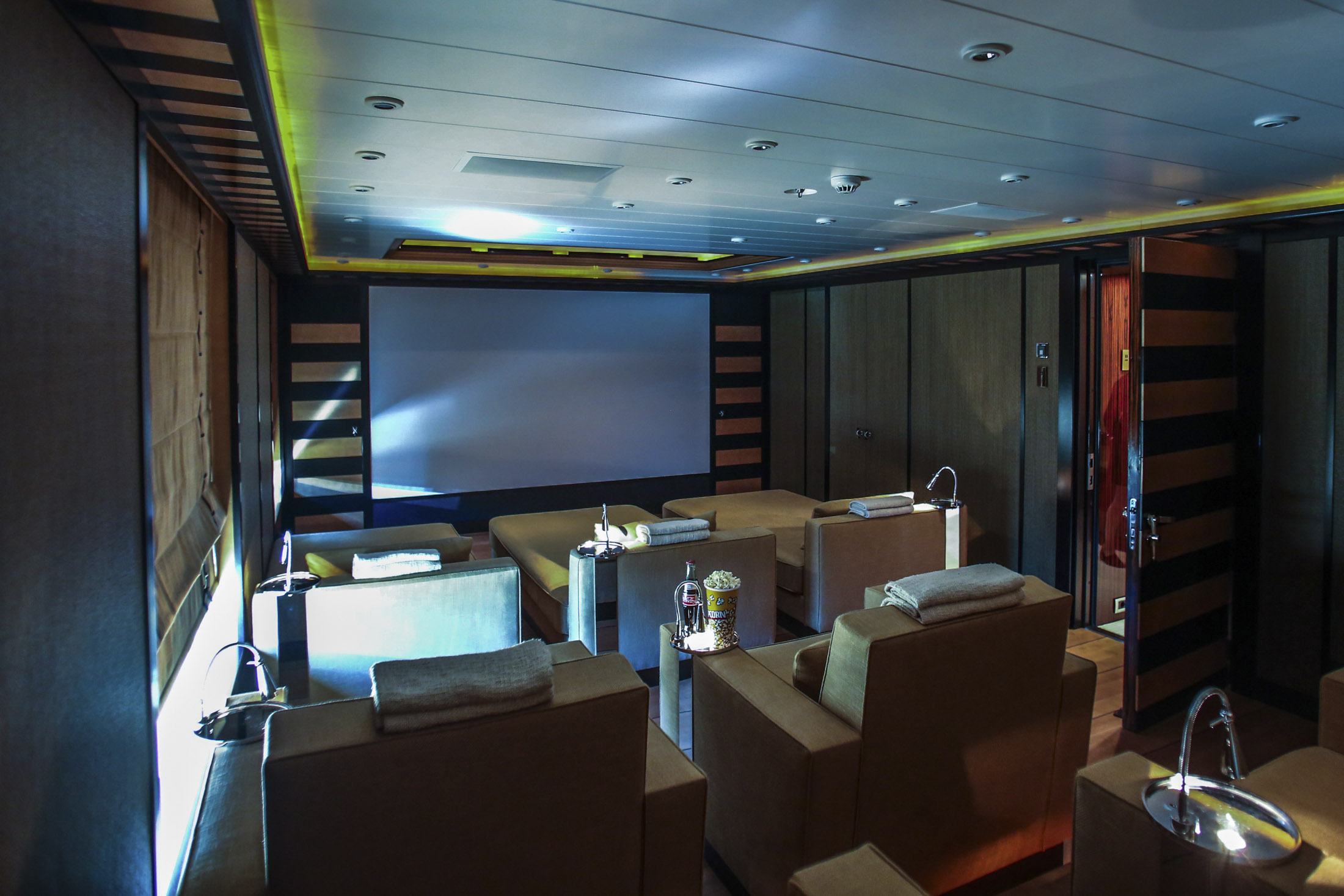 22
Cinema
There's a full cinema aboard with lounge chairs up front for the kids and beds in the back for the adults.
[*]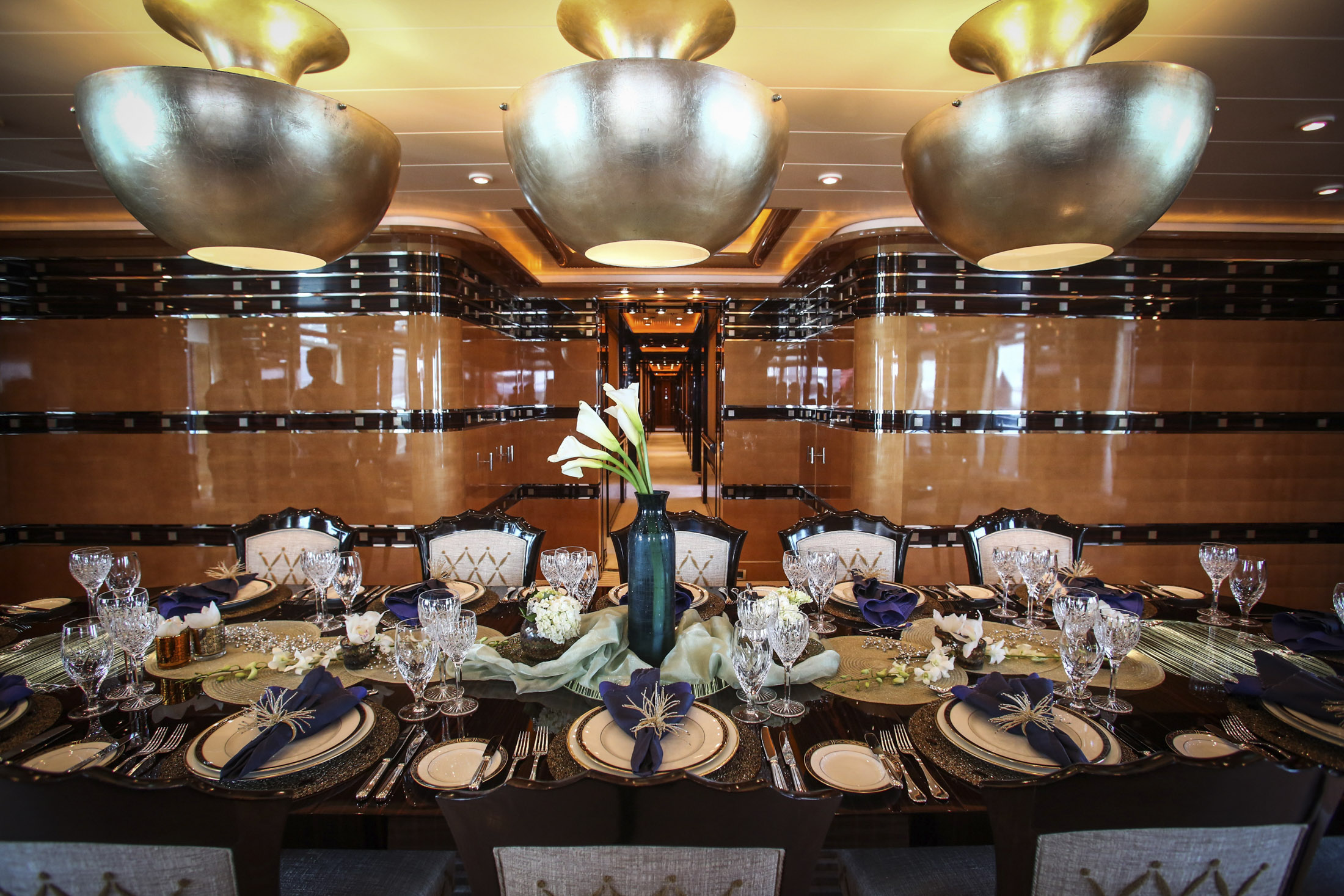 23
Dining Room
"My competition is a hotel," DuGas-Standish, the captain, said. "But my advantage is that I can move. There's nothing like going to bed in St. Tropez and waking up in Monaco."
[*]
24
Eye for Detail
Captain DuGas-Standish says service and attention to the smallest detail are what distinguish cruising on
Natita
from other ships.
[*]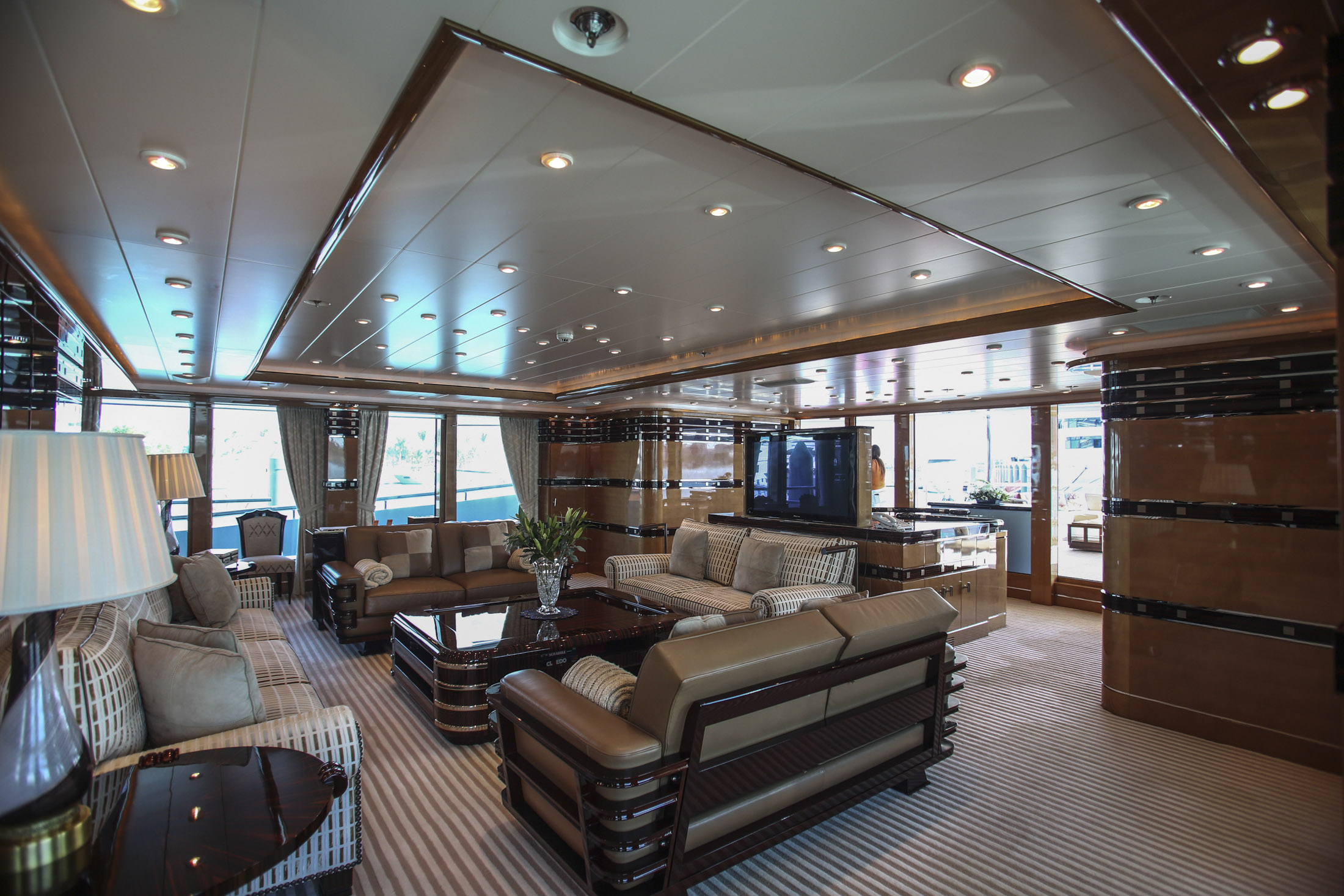 25
Lounge
Done by renowned Moroccan designer Alberto Pinto, the 11-year-old
Natita
looks freshly built. Exquisite interior details include whitewashed oak as well as leather walls. 
[*]
26
Central Staircase
There is no maze-like wandering around the
Natita:
its main floors offer a long central hallway that lets you keep an eye on the captain's chair while sipping mojitos in the stern.
[*]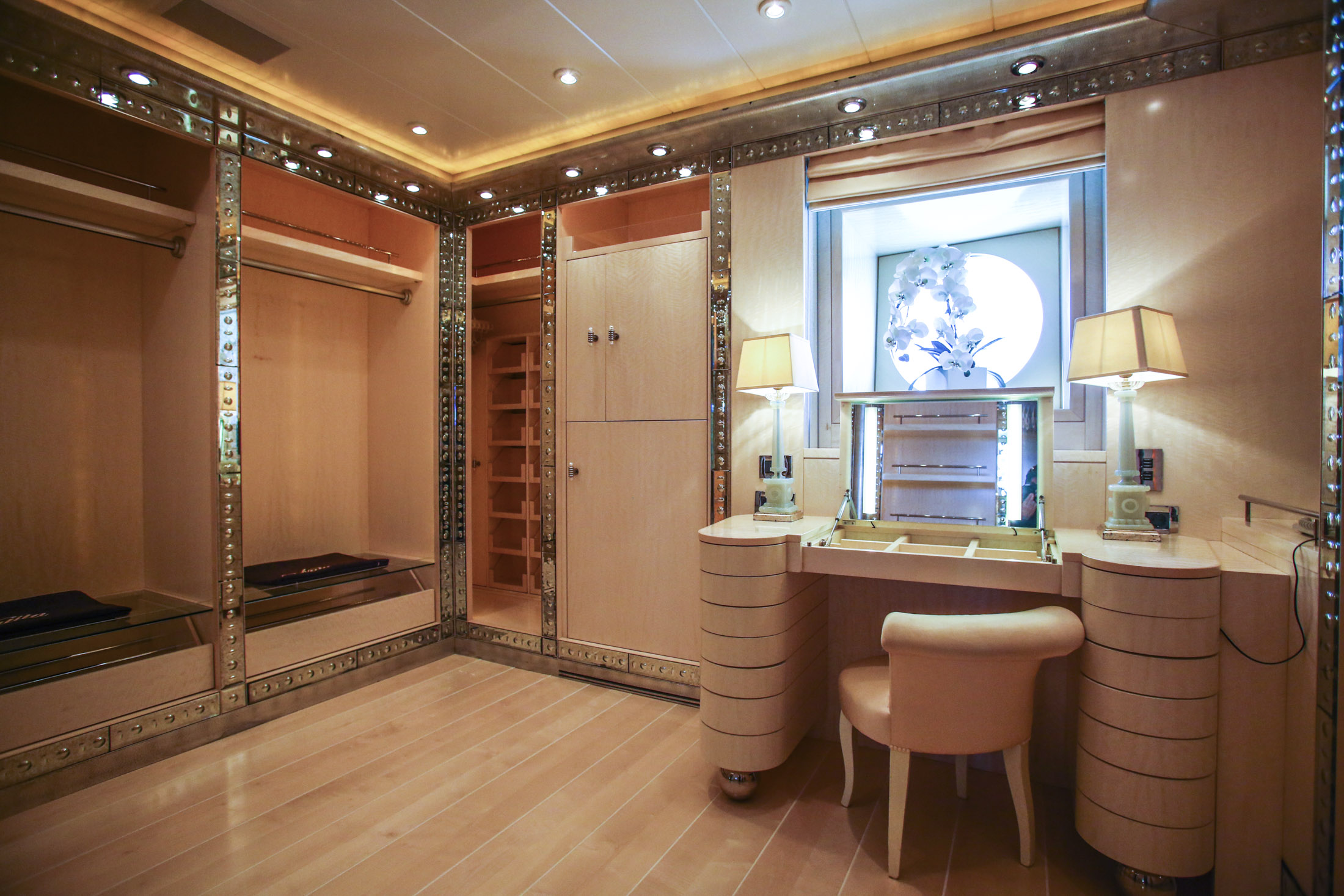 27
Walk-In Closet
The master suite's impressive walk-in closet and makeup room have space for plenty of costume changes.
[*]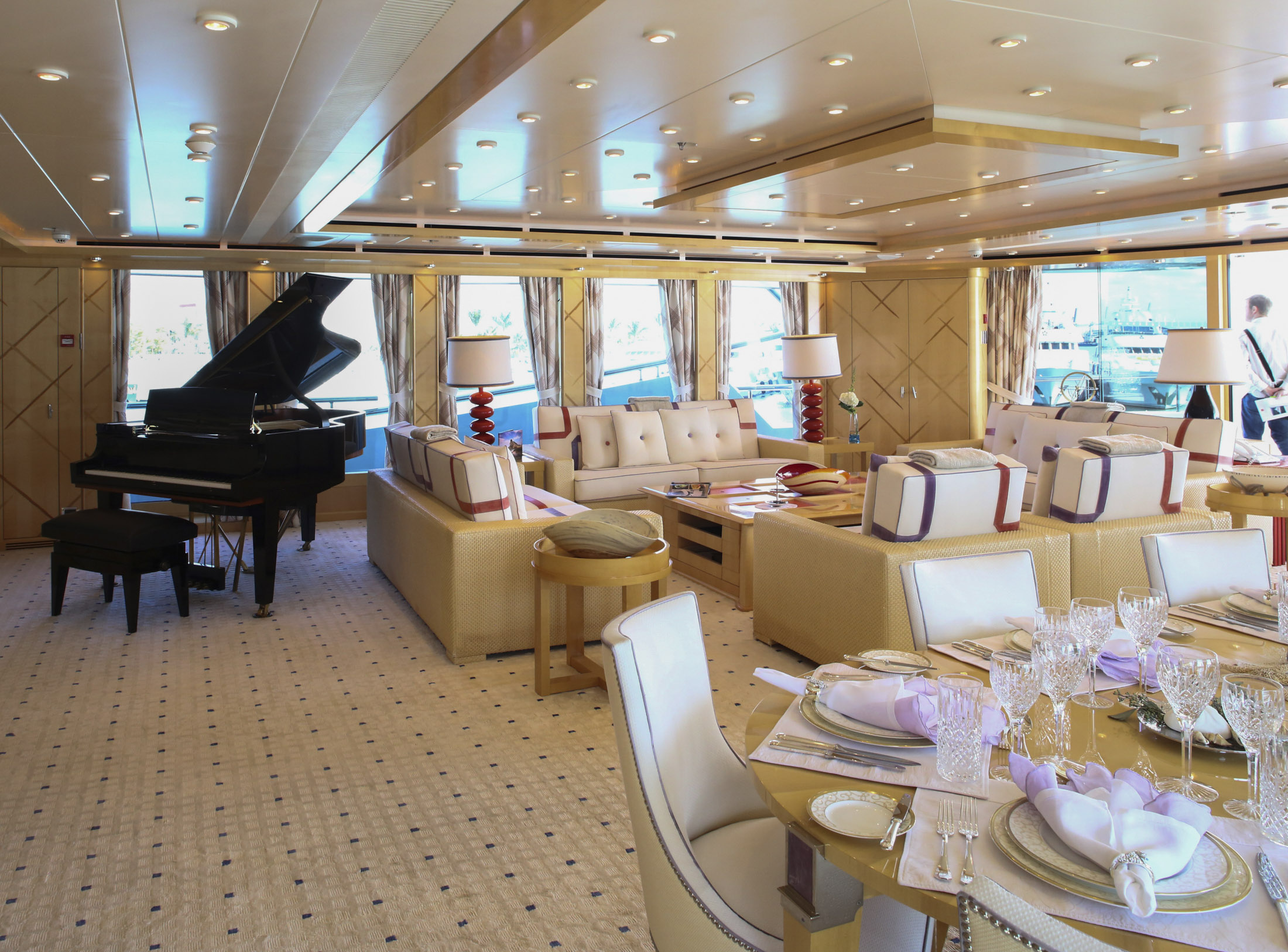 28
Skylounge
The colors and decor get much lighter in this main hangout area. That Steinway piano can play itself, and the recessed lighting above seems to mimic the constellations you'll see outside at night.
[*]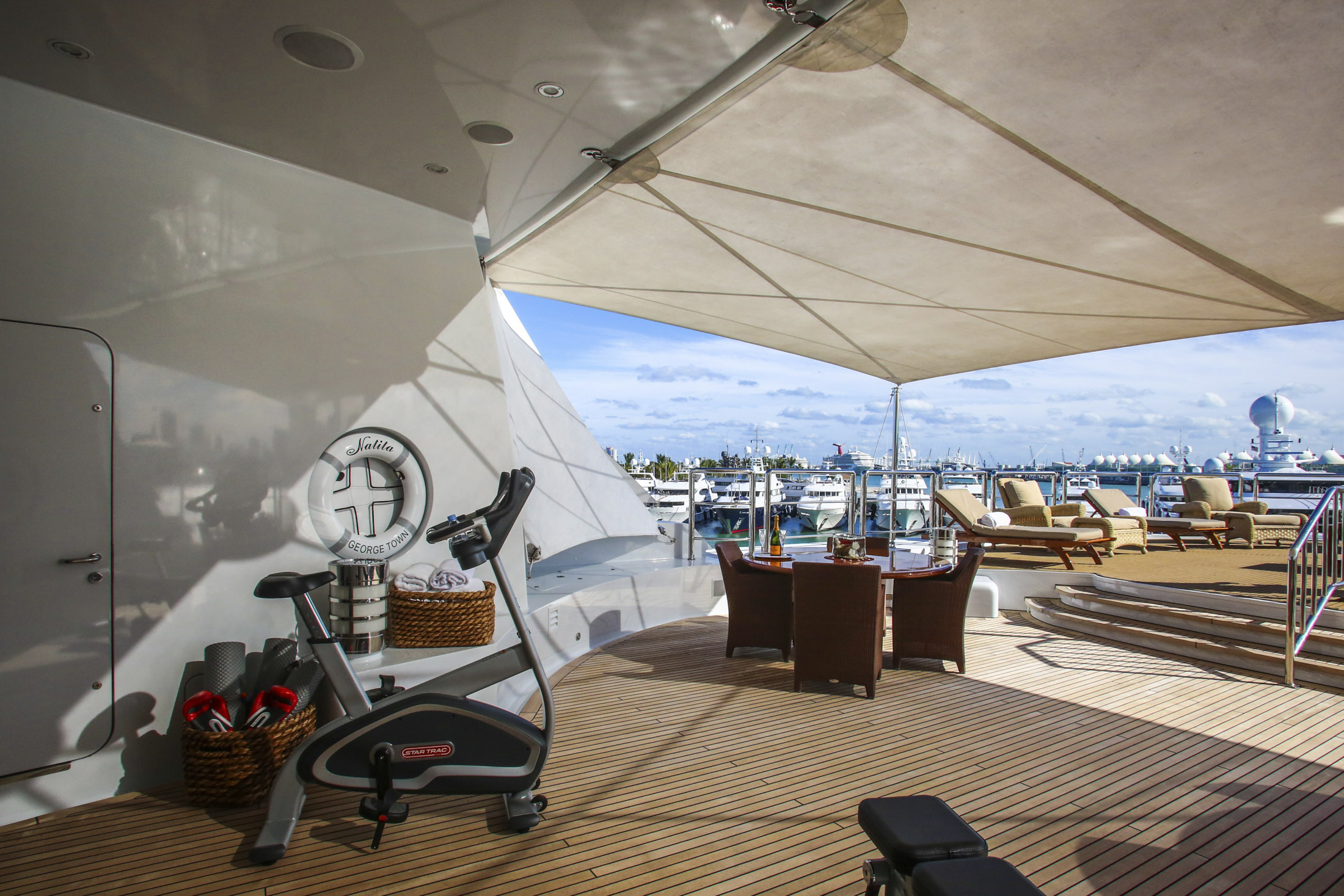 29
Massive Deck Space
The
Natita
has the standard fixings, but some unusual additions include a 2,000-gallon pool with a swimming "treadmill" for those who don't want to get their exercise over board (or on the stationary bike, seen here). There's enough indoor storage for 33-foot, 28-foot, and 19-foot speed boats—at the same time. The yacht's massive deck space holds a retractable mast and a helipad for touch-and-go landings. 
[*]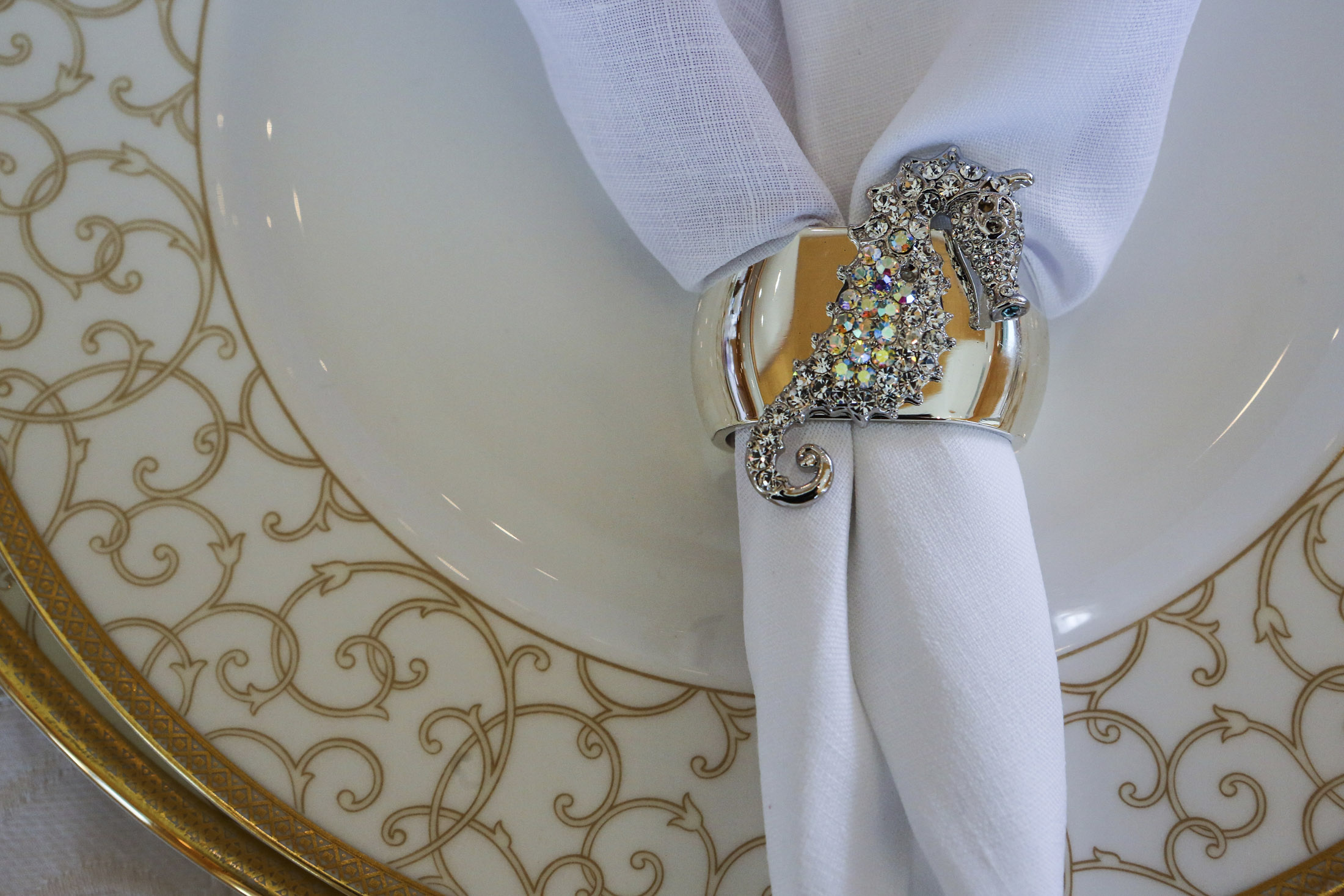 30
Luxury at Sea
Charter ships are limited to 12 guests, but the
Natita
can legally take four family staff (nannies, makeup people, etc.) who get their own smaller rooms. That's pretty unusual. Staff just can't be extra guests; they have to prove they work for the family. 
[*]
31
Galley
With a crew of 18, more than a 1:1 guest ratio, you'll never be far from a helping hand. Here, cooks prepare a meal in the professional-grade kitchen.
[*]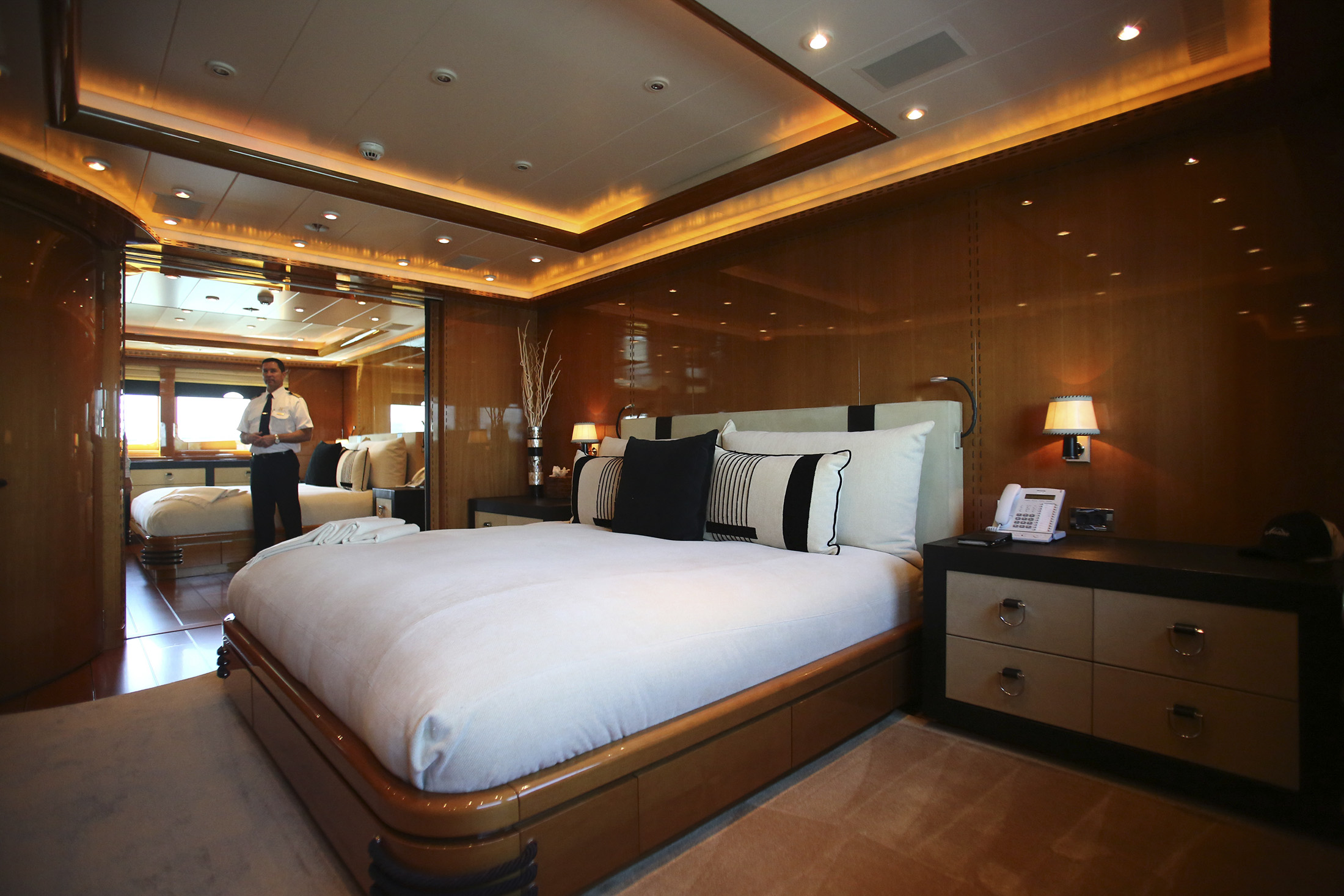 32
Master Suite
The master suite can get divided into two bedrooms, if needed, and features impressive small design details such as leather-stitched wood paneling (squint at those dotted lines by the door) and Turkish silk rugs over the already-deep carpeting. 
[*]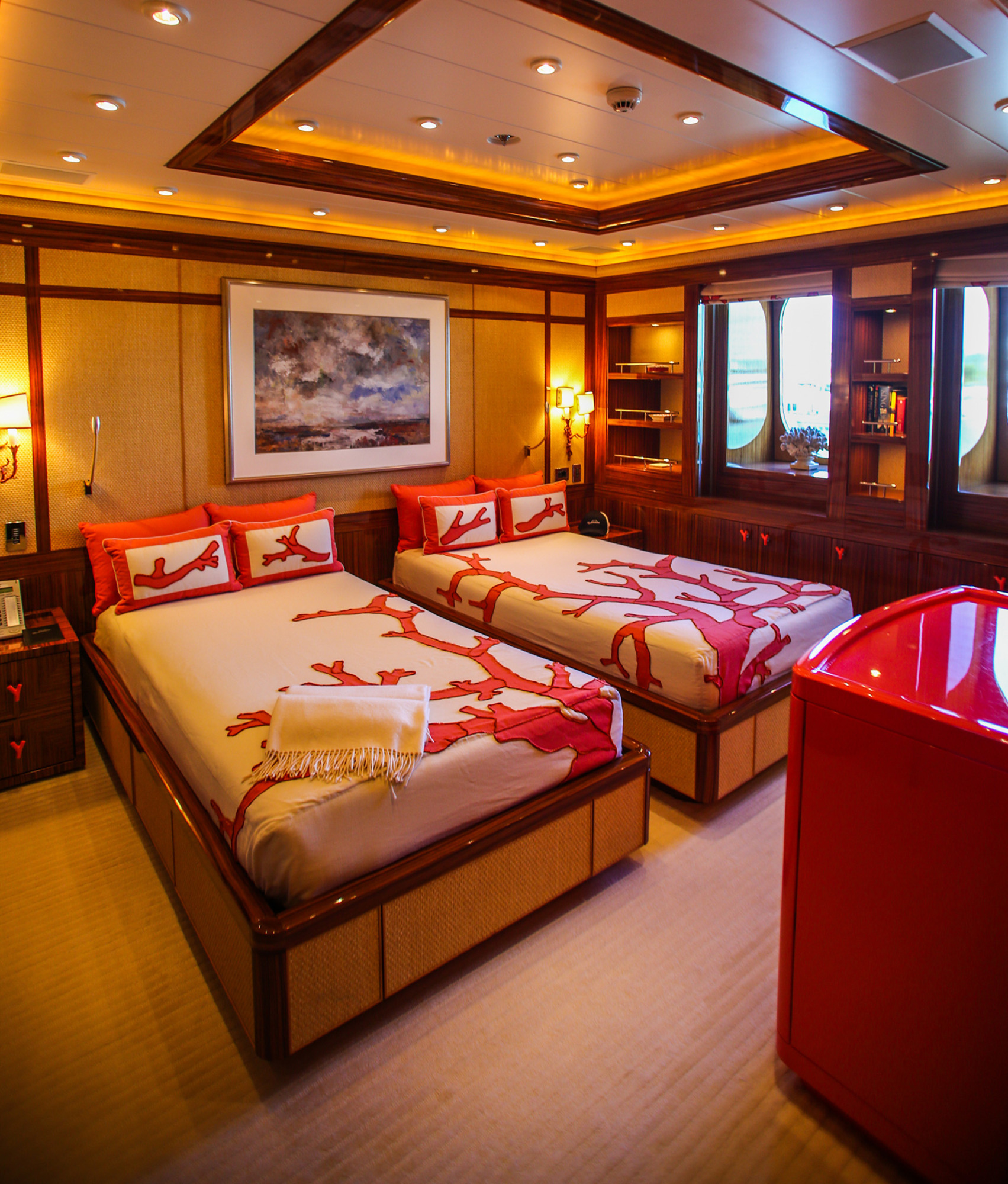 33
Coral Room
Eight cabins hold 16 guests, and every bedroom has a name. This is the Coral Room, for obvious reasons.
[/list]