Re: RT.com 8/22/16
Top US commander warns Damascus & Moscow against operations near American positions
https://www.rt.com/usa/356665-us-commander-russia-syria/
Counter measures will be taken by US troops in case they "feel threatened" by Syrian or Russian air forces, according to a senior US military official. The warning comes in the wake of a recent incident with Syrian warplanes attacking areas close to US Special Forces.
"We've informed the Russians where we're at ... (they) tell us they've informed the Syrians, and I'd just say that we will defend ourselves if we feel threatened," recently appointed US commander of American forces in Iraq and Syria Lt. Gen. Stephen Townsend said in a telephone interview with CNN on Saturday.
The US-led coalition had to order up its planes stationed near the northeastern Syrian city of Hasakah after two Syrian Su-24 jets dropped bombs "dangerously near" the US forces positions on Thursday, Pentagon spokesman Captain Jeff Davis told reporters shortly after the incident.
The US-led coalition on the ground tried reaching the Syrian warplanes on a common radio frequency, but there was no response. They had to contact the Russian command that confirmed that their plane wasn't involved.
By the time the US planes arrived, the Syrian jets had already left. The bombing caused no casualties, Pentagon reported. The US Special Forces were ordered to change location as a precaution while US jet patrols over the region were beefed up.
The US would "take whatever action is necessary" to defend their troops, Davis also said.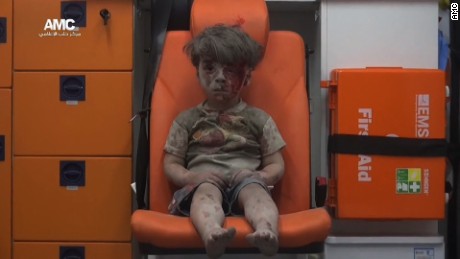 As to priorities over if and when to offer protection, a major collision with reality may occur at any time.  This ongoing blame game continues to depend on finding opportunity in disaster.
It's OK an ancient country gets set back 150 years in development, ancient genuine world heritage sites sacrificed along with former social order.  Make 'our' boys uncomfortable, though, there will be hard consequences.  
Like some twisted cut from a classic Greece movie, with 'the gods' playing havoc on human drama, only now manipulations of story line are cloaked, while concern for the very real human disaster is packaged with promotions and undeclared but loyal support for remote producers.  The movie Greek gods were never this hardcore, though ... and they were far more accountable.      
Differing versions of party responsible for cute little Syrian boy in ambulance getting hurt don't add up, with MSJ press now backing off slightly while riding the wave of who's-at-fault mileage they've already scored, never saying which side of the divided city line this boy was rescued and shot to fame on. Could we say 'poster child' for more of same, or what?
That Syrian Observatory guy in London sure gets to have his take on things often enough.  How does he ever manage? No western media reports from the Syrian gov't side whatsoever.  That is going off limits.