Re: Taipei Times 12/26/16
Principal resigns over Nazi outrage
http://www.taipeitimes.com/News/front/archives/2016/12/26/2003661929
COSPLAY FALLOUT:Cheng Hsiao-ming said he warned the students against using Nazi Germany as their parade's theme, but later chose to respect their decision
Hsinchu Kuang Fu High School principal Cheng Hsiao-ming (程曉銘) yesterday resigned over the outrage caused by a cosplay event at the school on Friday, when some students wore Nazi uniforms and carried swastika banners.
In his letter of resignation, Cheng apologized to the public as well as to the victims of the Nazi regime for the disturbance and the anxiety caused by the parade.
Cheng said the school will today present a list of personnel accountable for the incident, including the administrators and homeroom instructor Liu Hsi-cheng (劉習正).
The list would not include students, the school said.
Cheng said that he should resign and be held responsible for the incident, adding that he will accept any punishment handed down by the Ministry of Education.
The school would be temporarily managed by Huang Duen-huang (黃敦煌), the school's academic affairs director.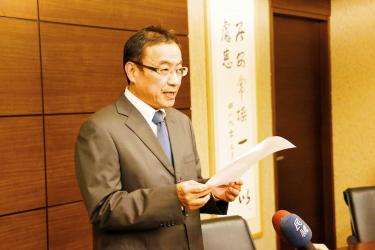 Though it may seem hard to imagine how this holiday parade activity could ever come about, the kids all thought it was pretty cool, not thinking about an 'outside world' which mostly ignores them.  Somewhat neurotic want for attention that goes with being a rather homely lot, the directors got more than the bargained for.
They've really gone too far, making the principal resign.
Taipei Times 12/26/16
Taiwan Quick Take
http://www.taipeitimes.com/News/taiwan/archives/2016/12/26/2003661951
Taiwan third-most ignorant
Taiwan has been ranked the third "most ignorant" nation in the world in an ignorance index survey that asked respondents from 40 nations questions about their homelands. The index was part of the Ipsos MORI Perils of Perception Survey conducted by Ipsos MORI, a market research company based in the UK, from Sept. 22 through Nov. 6. The survey polled more than 27,000 people aged 16 to 64, including about 500 Taiwanese. The index was calculated based on how accurately the respondents answered five questions about their nation's population, number of Muslims, healthcare spending and home ownership. According to the survey results, India topped the index, followed by China, Taiwan, South Africa and the US. Ranked from sixth to 10th places were Brazil, Thailand, Singapore, Turkey and Indonesia. In contrast, the Netherlands was the most informed nation, followed by the UK, South Korea, the Czech Republic and Malaysia.
Another policy dispute: